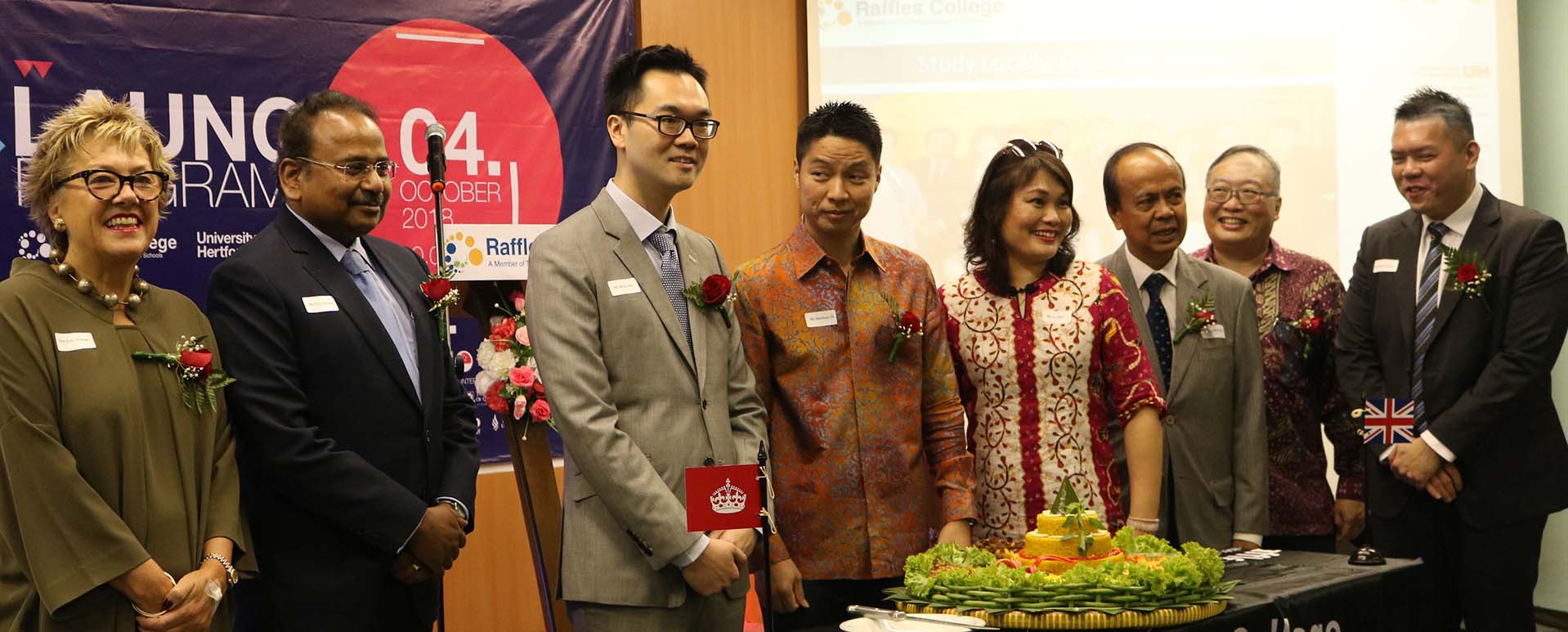 Welcome to Raffles College! – UH Launch Programme
Posted on March 30, 2021
Raffles College is a private learning institution pioneer in Indonesia. It is also part of the prestigious Raffles Christian Group of Schools (RCGS).
With more than 17 years of experience in delivering international Higher Education, Raffles College aspires to become a premier private education institution by providing students with an industry-ready education to be successful in the global economy. We are committed to developing human resource with high-quality international standard programs, character building program, and knowledge growth focus.
We realize that today, while an overseas education is highly sought after, the rising cost of overseas education has become the biggest factor for parents to decide whether to send their children abroad to gain global perspectives, and study with some of the world's leading universities.
That is why we are glad to announce that we are the first in Jakarta to offer the best of an overseas education in our own hometown, Jakarta, through an exclusive partnership with the University of Hertfordshire (UH), a leading UK university. This means that our Business Study Program students can progress directly to UH's final year at Raffles College without ever leaving Jakarta, to earn their Bachelor of Art (Hons) in Business Administration.
UH has developed an excellent reputation for their courses and teaching. Having the opportunity to provide our students a chance to advance to a UH final year program is also a good reflection of Raffles College's record in delivering world-class teaching locally in Jakarta. As part of their study with UH, our students will be able to develop the powerful skills needed to make a real difference in their future jobs. The UH experience will give our students opportunities to learn from innovative businesses all over the world, enabling them to become enterprising, ethical and highly employable graduates.
To maintain the authenticity of UH programs and to ensure the quality of delivery, all aspects of academic quality are strictly managed by the University and Raffles College. An optimum student-teacher ratio allows us to closely monitor our students' progress, with interactive tutorial classes that make sure our students match up to UH's strict standards. Upon completing their top-up year, students who earn a UH degree in Jakarta can also choose to attend their graduation ceremony at UH's home campus in the UK.
With this partnership, we are proud to say that "now, you could have best-in-class international education right here in Jakarta".
This first-of-its-kind partnership would not be made possible without PT Star Pendidikan Lestari—a newly established joint venture company between shareholders Star Education Group (owners of leading private education institution PSB Academy in Singapore) and PT Budhi Lestari (one of Indonesia's premier education consulting and management groups). With their joint expertise, Raffles College will have the resources to provide critical academic support for international programs. Aside from this collaboration with UH, Raffles College will also be able to tap on their pan-Asian network of colleges and partners, to continue to provide students valuable pathways to some of the world's leading universities in UK and Australia.
With our mission to nurture future Leaders, Entrepreneurs, and Innovators, Raffles College and the University of Hertfordshire hope to raise the bar for higher education in Jakarta and beyond. As the only institution in Jakarta, Indonesia, that now offers a FULL UK Degree, we are looking forward to becoming the institution of choice for families here, and to preparing students to face a competitive workforce, both locally and globally.