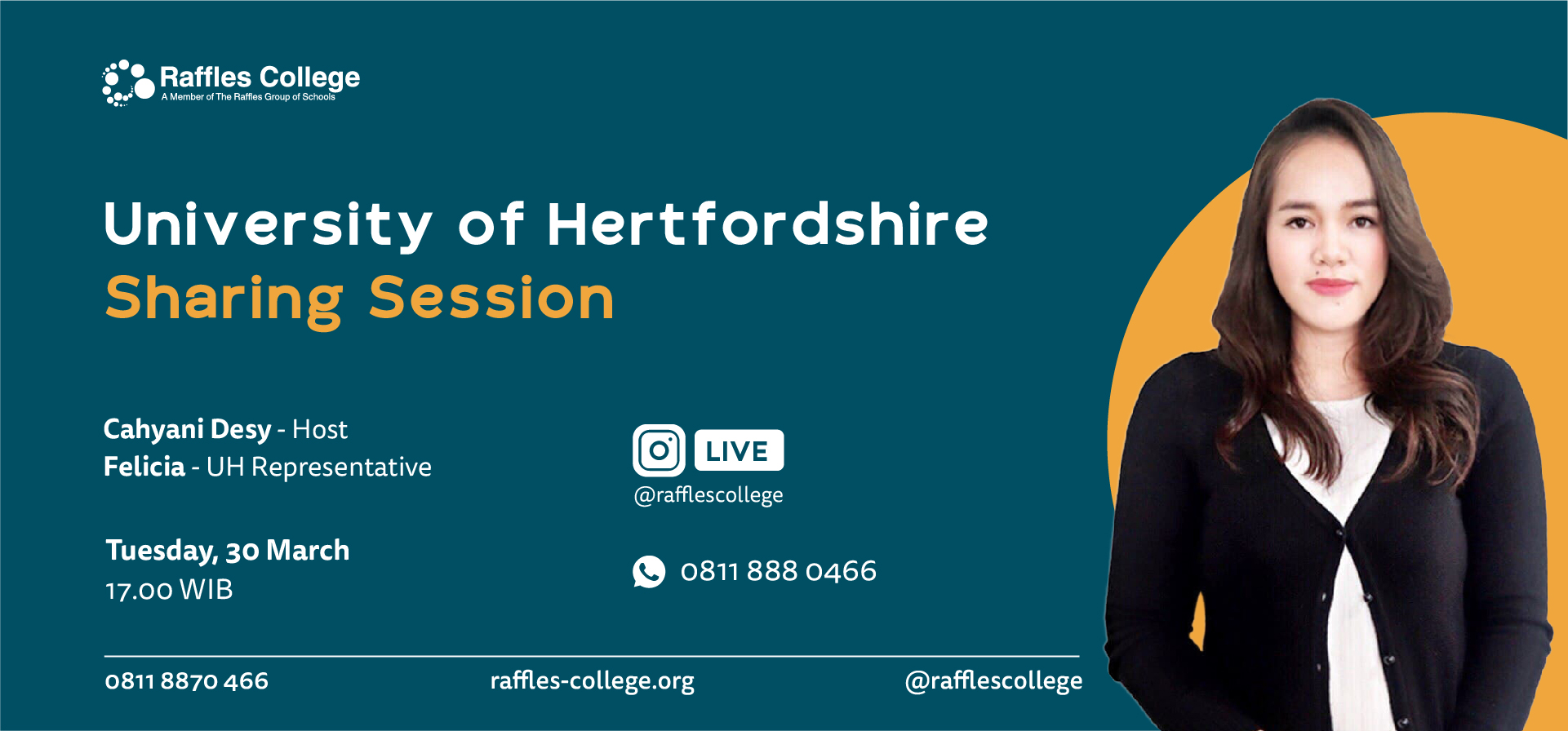 University Partner – the University of Hertfordshire
Posted on March 30, 2021
The University of Hertfordshire, located in the town of Hatfield, England, is one of the top 250 universities in the world – and a leading campus in the UK. The University of Hertfordshire brings the transformational impact of higher education to all. Their staff, students and the businesses they support, consistently reach their full potential.
Through cutting-edge research projects and powerful business partnerships, they think bigger, stand out, and positively impact local, national and international communities.
On Tuesday 30 March at 16:00 WIB Raffles College will conduct an IG Live session with Ms. Felicia, the University of Hertfordshire's (UH) representative in Indonesia.
During this IG Live session, Ms. Felicia spoke about living in the UK and campus life at UH. The living costs as a student in a UH dormitory are around £1,023 per month to cover rent, electricity, water and food. The tuition fees for a bachelor's degree at UH are £13,450; for a master's degree, £13,950.
96% of UH graduates are in employment or further study within 6 months of graduating. The University of Hertfordshire vision is to transform lives. This means that whatever your background, wherever you are from, they will drive your potential, empowering you to succeed. They are committed to making a positive transformational impact on every member of their university community, and to share their successes with the community around them.
They support a diverse range of students, staff, businesses, researchers and members of their community. What they all share is the desire to make the most of the opportunities in front of them. Their strategy will enable them to empower their potential and achieve their goals.
Students, businesses and the local community are all motivated by the same thing – finding ways to make the most of the opportunities in front of them, by tapping into their individual or collective potential. Empowering potential is embedded in their philosophy. This means that to transform lives they not only find potential, but harness and drive it.
The University of Hertfordshire is the main partner of Raffles College, which currently offers two UH collaborative programs. This enable students to study entirely in Jakarta, and graduate from the University of Hertfordshire with a bachelor's degree in design or business within three years. Please contact us for more information about our UH Program.