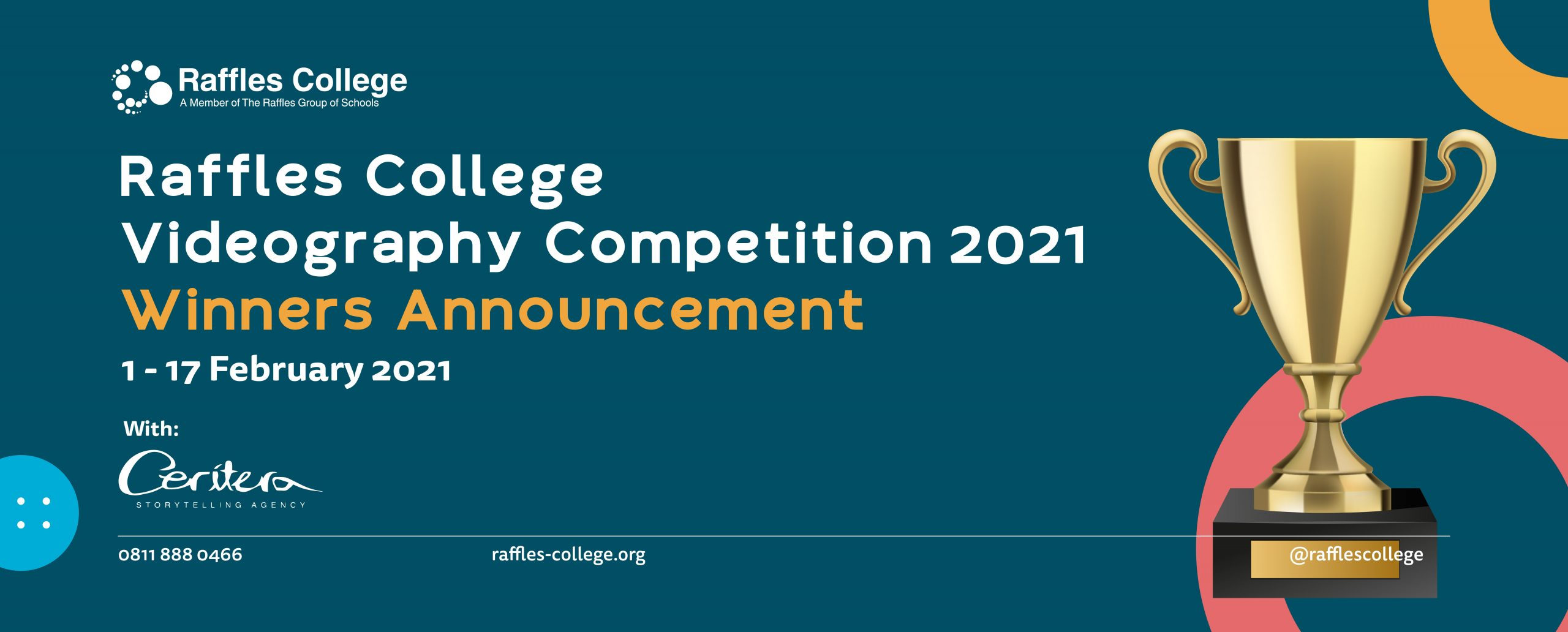 RAFFLES COLLEGE VIDEOGRAPHY COMPETITION 2021 WINNER ANNOUNCEMENT
Posted on March 31, 2021
Raffles College, in collaboration with Ceritera, an Indonesian storytelling agency with experience of making videos for big brand companies such as Honda, BCA, Garuda Indonesia and Telkomsel, recently held a highly successful online videography competition for high school students. This competition took place from 1 – 22 February, with the theme "My Learning Journey".
83 students registered, 35 of whom submitted videos. All the entries were of professional quality, participants displaying a remarkable level of skill in creating and editing videos. Raffles College is honored to have hosted this wonderful event, which we hope will inspire students to be ever more creative and innovative. Special thanks go to our partner Ceritera, who made this event such a success.
Thank you to all videographers who participated in our videography competition. You are amazing! Stay creative and positive always. Maybe you will be inspired to enrol in a Raffles College design or animation course! We are open for enrollment this April and July – call us for full information.
Congratulations to our winners:
1. Best Film
– Christian Devin (SMAK 1 Penabur Jakarta)
– Patrick Young
– Brian Michael
– Shanice Faith
CASH IDR 3.000.000,- + SCHOLARSHIP IDR 50.000.000,- + CERTIFICATE
2. Best Directing
– Muhammad Irfan Almizan (MAN Insan Cendekia Sambas)
– Rahman Insani
– Apif Ponsam Hakam Wijaya
– Restu Mulyadi
– Zulfahmi Widhianto
– Muhammad Fachri Fahruddin
– Farid Azizi Rafiz
CASH IDR 2.000.000,- + SCHOLARSHIP IDR 50.000.000,- + CERTIFICATE
3. Best Script
– Darrel Hadiwana (SMK Strada Daan Mogot)
– Alexander Ponco
– Justin Xavier
CASH IDR 2.000.000,- + SCHOLARSHIP IDR 50.000.000,- + CERTIFICATE
4. Best cinematography
Brandon Lee Webster (Temasek Independent School)
CASH IDR 2.000.000,- + SCHOLARSHIP IDR 50.000.000,- + CERTIFICATE
5. Best editing
Edward Johar (Chandra Kumala School)
CASH IDR 2.000.000,- + SCHOLARSHIP IDR 50.000.000,- + CERTIFICATE
Top 10 FinalistS
6. Muhammad Fadhil Al Wafie, Andhika Fahkhansah, Yudistira Pradana (SMA Insan Cendikia)
EMONEY 200.000,- + SCHOLARSHIP IDR 40.000.000,- + CERTIFICATE
7. Revalina (SMA Bunda Hati Kudus)
EMONEY 200.000,- + SCHOLARSHIP IDR 40.000.000,- + CERTIFICATE
8. Theodore Ezekiel (Taruna Bangsa Sentul)
EMONEY 200.000,- + SCHOLARSHIP IDR 40.000.000,- + CERTIFICATE
9. Ryas Fardhin (SMA Darussalam)
EMONEY 200.000,- + SCHOLARSHIP IDR 40.000.000,- + CERTIFICATE
10. Antonius Wijaya, Hendrawan Surua Wijaya (SMK Cinta Kasih Tzu Chi Cengkareng)
EMONEY 200.000,- + SCHOLARSHIP IDR 40.000.000,- + CERTIFICATE
Participants:
Shaubil Haqqi Mayda Putra (Ibnu Hajar Boarding School)
Prajna Wira Sonika (SMA Dharma Loka)
Dimas Dwi Cahyo (MAN 1 Kota Tangerang Selatan)
Reza Satria putra (SMKN 1 Kotabumi Lampung Utara)
Refi Febrian (SMAN 2 Lubuk Basung Kab. Agam, Sumatera Barat)
Mellynda Sari (Kalam Kudus Jakarta Barat)
Tri Tabah Arya Dinata (SMAS Muhammadiyah 1 Palangkaraya)
Gabriel (SMKN 1 Palangkaraya)
Dian Reygita Sari (SMKN 1 Teluk Keramat)
Bryan Adi Nugraha (SMAN 1 Pontianak)
Muh. Alfin Ikram Mullah R.L (SMKN 2 Surabaya)