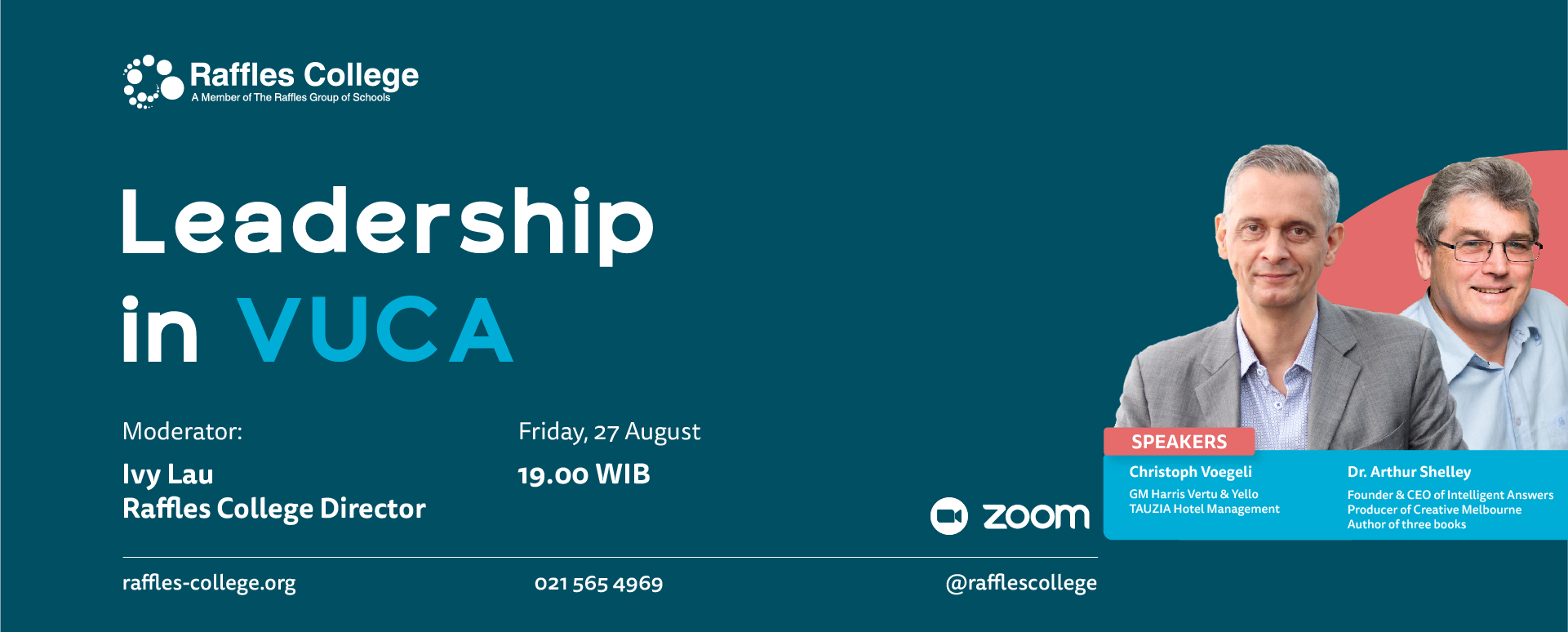 Leadership In VUCA
Posted on August 27, 2021
VUCA is not a new situation for the business world. Prior to the pandemic, organizational leaders already faced a changing and unpredictable environment. However, the COVID-19 crisis made the intensity of VUCA even stronger.
VUCA stands for Volatility, Uncertainty, Complexity, Ambiguity. In this pandemic situation, VUCA is used for business leadership training as one of the skills that must be mastered in strategic planning.
On 27 August 2021, Raffles College as an international campus in Jakarta hosted a webinar with two well qualified speakers including Christoph Voegeli from Jakarta as GM Harris Vertu & Yello TAUZIA Hotel Management and Dr. Arthur Shelley from Melbourne – Australia, Founder & CEO of Intelligent Answers Producer of Creative Melbourne who is also an author of three books.
In this webinar Christoph Voegeli shared about his experiences for managing hotel industries. This pandemic makes hotels and restaurants must take creative strategy to create hotel packages such as Work from Hotel, Rent a Chef, Online Shopping, Online Learning and also Accommodation for Self Isolation.
Dr. Arthur Shelley shared four keys how to lead in VUCA world. Firstly, we must understand the difference between Leading and Managing. Secondly, we must be Adaptive. Thirdly, act short term align with long term outcomes and lastly, Taking risk by understanding behavior and how it influences our life situations.
We would like to thank you to both of our speakers Mr. Chris and Dr. Arthur for sharing their time and to 80 professionals, entrepreneurs and academicians who participated in this webinar. We truly hope the session will have a positive insight to all participants in leading in VUCA world.
Follow our Instagram @rafflescollege for an insightful webinar. Raffles College an International campus in Jakarta is open for 2022 enrollment. Contact us for more info.